'ROAR With Katy Perry' Contest: 'Good Morning America' Official Rules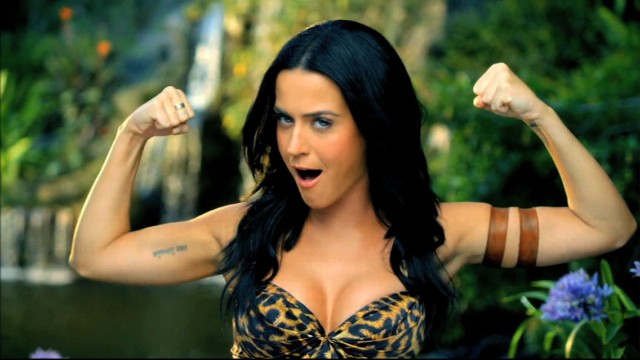 debut arrives in stores Sept. 24. (Theo Wargo / Getty Images) Also By Mikael Wood September 12, 2013, 9:00 a.m. When Katy Perry 's "Roar" reached the top spot on the Billboard Hot 100 this month, it not only ended months of domination by Robin Thicke and such slick soul-man peers as Justin Timberlake , Bruno Mars and Daft Punk. It also set the stage for a resurgence this fall of female pop stars. At the forefront of that charge are Perry, whose album "Prism" is due out Oct. 22, and Lady Gaga, who's set to release her latest, "Artpop," on Nov. 11. ("Applause," the lead single from Lady Gaga's album, cracked the top 5 last month.) But a feisty crew of other acts looms right behind those titans: On Oct. 8, Miley Cyrus , whose recent performance at MTV's Video Music Awards actually drew more notice than either Perry's or Lady Gaga's, will unleash "Bangerz," which promises to complete her transition from Disney Channel sweetheart to twerk-happy enfant terrible. And M.I.A., the globe-tripping digital-punk agitator, is to return Nov. 5 with "Matangi," her follow-up to 2010's polarizing "Maya." PHOTOS: Concerts by The Times Slightly lower profile but no less energetic, the Swedish duo Icona Pop known to American listeners for its gleefully profane electro-rave hit "I Love It" has a U.S. debut set to arrive in stores Sept. 24 that includes at least one cut in which Aino Jawo and Caroline Hjelt threaten to "smash the club." In April, Icona Pop's London-based pal Charli XCX (who co-wrote and appears on "I Love It") released her own stateside debut, the lurid "True Romance"; on Nov.
preview event on USAToday.com: http://usat.ly/1etmkeZ Incorrect please try again A link has been posted to your Facebook feed. Sent! A link has been sent to your friend's email address. 1 To find out more about Facebook commenting please read the Conversation Guidelines and FAQs Katy Perry sheds light on 'Prism' at L.A. preview event Edna Gundersen, USA TODAY 6:08 p.m. EDT September 13, 2013 The pop princess abandoned a "dark-sided" approach to let light fill 'Prism,' a mostly upbeat batch of smart, fun pop. Katy Perry's third album, Prism, arrives Oct. 22 (Photo: Jamie McCarthy/Getty Images for MTV) SHARE 45 CONNECT 44 TWEET 1 COMMENTEMAILMORE "It was a little dark-sided," Katy Perry said of initial stabs at writing third album Prism. "I did some self-reflection and let a lot of light in my life." Lucky for fans, the pop superstar opted for a sunnier approach on the highly anticipated album, out Oct. 22. The "self-sabotaging recordthat'll be my fourth record," she quipped at a Prism premiere party Thursday night at the Hammer Museum in Los Angeles. Serving as hostess, with Capitol Records vice president Greg Thompson at her side, she played 12 songs for an audience of journalists, radio programmers and industry execs. Perry, in a snug tan halter, animal print pants and ankle-strap heels, summoned bartenders to deliver more wine and vodka to the crowd. Noting the water bottles on the table next to her, she said in a stage whisper, "Where's the tequila?" The cocktail-fueled evening opened with the whimsical video for chart-topping single Roar, starring Perry as queen of the jungle cavorting with a variety of wild beasts. A rundown of the tracks: Legendary Lovers.
The concert will also be broadcast on "Good Morning America." Wouldn't you like to have Katy Perry roar into your school? CLICK HERE to enter between September 11th and October 1st for a chance for your school to win! Katy Perry Roars Her Way to Top GOOD MORNING AMERICA'S "ROAR with Katy Perry" OFFICIAL CONTEST RULES NO PURCHASE NECESSARY TO ENTER OR WIN. Eligibility Guidelines: Contest sponsored by Good Morning America ("GMA") and American Broadcasting Companies, Inc. ("ABC"), (collectively, the "Sponsors"). Entrants to Good Morning America's "ROAR with Katy Perry" Contest ("Contest") must be currently enrolled as high school students, legal residents of the 48 contiguous United States or the District of Columbia and 13 (thirteen) years old or older. An entrant will be considered a student representative of his or her school, which, in order to qualify for the grand prize, must be exempt from taxes under the Internal Revenue Code of 1986, as amended. To be considered a valid submission, all entrants are subject to confirmation of their enrollment status, qualification of their school's tax exemption status, and the willingness of their qualified school to host the Katy Perry grand prize concert on or about October 25, 2013. Any individuals (including but not limited to employees, consultants, independent contractors, and interns) who have, within the past six months, performed services for the Sponsors, any organizations responsible for sponsoring, fulfilling, administering, advertising or promoting the Contest or supplying the prize, and their respective parent, subsidiary, affiliated and successor companies, and immediate family and household members of such individuals, are not eligible to enter. "Immediate family members" shall mean parents, step-parents, children, step-children, siblings, step-siblings, or spouses. "Household members" shall mean people who share the same residence at least three months a year. How to Enter: To enter, navigate the Internet to www.goodmorningamerica.com and click on the link for Good Morning America's "ROAR with Katy Perry" Contest which will take you to the Contest home page. There you will find instructions on the appropriate and acceptable file formats and sizes for submitting your entry electronically.